Demystifying Career Prospects and Student Life in Singapore
"Sometimes it's the smallest decisions that can change your life forever." - Keri Russell.
This statement sits aptly in a student's life as every decision a student takes is driven by a few aspects and influences the life ahead.
One such aspect which plays a major role in deciding which college a student chooses are the career prospects. Universities have been using their placement numbers as a major marketing tool and as per the recent numbers and traction gained by the universities, we see that it's definitely working in their favor.
After all, the last thing a student wants is to go to some University that is far off from his or her hometown only to pay enormous tuition fees to the college and come back to his hometown without a job in hand. Further, if you see the University rankings you would notice how campus placements influence a university's rankings immensely. Considering a good start to the career can make or break his or her future, I would definitely rank it as an important factor as well.
For all my regular readers, welcome back! Hope this blog is as helpful as my previous blogs and for the new readers here's a little something about me. I am a Master's student at the National University of Singapore pursuing a Master's in Computing and am currently running my own startup "GlobalCert Pte Ltd." simultaneously which is under incubation with NUS Enterprise with a customer base spanning Singapore, India, and Gulf countries!
In this blog, I talk about career prospects and student life in Singapore from my perspective and share insights from my own personal experience. I touch on and try to answer all the questions which are difficult to find answers to on a regular basis in context to Singapore.
My own personal life was also driven by the same choices as mentioned above and I have had to go through deciding such things myself while discussing such aspects with my parents before finalizing my University for undergraduate studies. Further information about myself would be, I have done my undergraduate studies in Computer Science and Engineering from Vellore Institute of Technology, Vellore.
One of the main deciding factors for selecting this Institute was its amazing placement records, not that it matters now as I decided to take a different route altogether and decided to pursue my studies further by pursuing Masters in Computing from the National University of Singapore!
That said, I would definitely like to mention how all my friends got placed and are now sitting in amazing companies with good packages and some credit for this definitely goes to the college apart from the fact that my friends are really talented! For all my friends reading this blog, "Cheers Guys!! More amazing things to come!! ;)"
For the rest of you reading this blog who are yet to start their college life, keep in mind to give your best and make the right choices and you will see things falling in place for you! The same goes for all your college peers, believe in yourself and give your best! With adequate efforts and sheer willpower, your careers are bound to take off!
Now coming back to the choices and decisions which students have to take while selecting a University is also influenced by the place the Institute is situated and how student-friendly it is.
This is less of a discussion of the options for selection are only limited to one country but can still be a point of consideration if the country is as big and diverse as India with very different cultures and languages. A University in a student-friendly place is able to attract more students in comparison to places with a student-averse mindset, after all, who likes being felt unwanted or out of the place.
Now, let's look at this from an international perspective. When a student decides to pursue his or her college studies abroad the above two mentioned points play an even more integral role apart from tuition fees to be paid. Countries with a student-friendly reputation are generally able to attract more students and those countries happen to be high up on a student's list in comparison to other potential options.
Let me tell you more about this from my own personal experience. Initially, when I used to think about doing my masters, I also used to think about the common countries such as the US, UK, Europe, Canada, and Australia.
Some names in this list of countries fare better in comparison to others in terms of student perception about how student-friendly they are and the career prospects after their degree. Now, you must be thinking if I didn't take Singapore as one of the considerations then how did I land up here at the National University of Singapore and that's definitely a very valid question.
So, let me try and explain this through the term "boutique". "Boutique" by definition refers to anything small and sophisticated. Singapore as a country fits the description perfectly, it's small, very small but also very sophisticated and advanced. This tiny nation often gets overlooked amongst it's bigger peers even though the Universities in this city-state are amongst the best in the world with NUS constantly being ranked 11th and NTU at 13th rank globally respectively as per QS ranking.
Universities such as Singapore Management University (SMU) and Singapore University of Technology and Design (SUTD) are also hot on the heels of other universities and have been climbing the ranking ladder at a very good pace, leaving the competition far behind even though they are pretty young in comparison to their peers.
Apart from the high ranking, the bright career prospects and a student-friendly environment also sets the scene going in favor of this country.
The academic internship at NUS conducted by Corporate Gurukul made me look at this small yet amazing country with so much to offer and that's when I had started considering this country seriously as a potential option for me to pursue my master's studies. I will formulate answers to a few questions below which I had in mind while considering Singapore and I hope this comes in hand for you as well!
Q1. What are the career prospects in Singapore like?
Singapore being a major Fin-Tech hub of Asia while also being strategically placed in the middle of South-East Asia coupled with good and stable governance by the government has led to this country is in the notice of all the big corporations leading to them opening their regional offices in this country which means there is no dearth of job opportunities irrespective of the domain of work, whether it be finance or technology.
You will find all the major companies such as Google, Microsoft, etc. as well as the new big names in the tech industry such as Grab, Razer, Bytedance, etc. with their offices in Singapore.
Further, Singapore is also a thriving tourist destination bar the effect of COVID -19 and hence the service and hospitality industry is also very robust with a plethora of opportunities. Singapore also has an amazing startup ecosystem that is undergoing constant improvisation and refinement on a daily basis leading to the growth of many new innovative companies.
Many prefer to establish their businesses in Singapore due to the sheer support and efficient system offered by the government for the companies, which also motivated us to establish our startup "GlobalCert" in Singapore.
Q2. Are there zero job opportunities for International Students in Singapore? Here's my opinion!
Answering this question as an extension to question 1, I would like to bring to your attention a few things or in fact a recent piece of news. Singapore has a job requirement of approx 12,000 more personnel in the coming few years and this number is only bound to grow with time in the tech industry.
For other industries, there are sufficient opportunities with good weightage being given to the fact that you have finished your studies in Singapore and are at par with their expectations and standards. So, to put it subtly there are enough opportunities for skilled and talented professionals.
Q3. Is it possible to get a work visa after graduating? What type of visa is it? The process? How long will the visa be extended?
After successful completion of the degree, a 1-year long LTVP (Long term visit pass) is issued subject to the government's approval during which you can stay in Singapore and look for a job. One year according to me is sufficient time for a person to look for a job and secure it.
Once the candidate secures the job, he or she can get their LTVP converted to an Employment Pass which is applied for by the hiring company. The Employment Pass would be valid till the time he or she is associated with the company as an employee and it's renewal is a smooth process.
Q4. How is the entrepreneurship ecosystem in Singapore and NUS?
Singapore has been developing its startup ecosystem at a very aggressive pace with a lot of support and environment being provided by the country for nurturing an entrepreneurial mindset and to be able to scale the start-ups after their establishment. NUS and other universities also have their own incubators such as NUS Enterprise of NUS which provide a lot of support in various ways in order to help the companies grow and flourish.
My company "GlobalCert Pte. Ltd." is also currently under incubation with NUS Enterprise. Various other Incubators, accelerators, and Venture capital firms have set up shop in Singapore in order to be a part of and support the startup ecosystem such as Entrepreneurs First, Antler, Golden Gate Ventures, etc.
Q5. Does NUS help in getting an internship or full-time jobs? What's the process of securing them?
NUS has a system called NSWS (NUS Student Work Scheme) which is open to all the students of NUS with various part-time opportunities on the campus itself which can be applied for by the interested students.
Apart from the in-house opportunities, NUS sends out two emails every week with a list of all the recent openings for internships as well as full-time job opportunities for facilitating the connection between its students and the companies looking forward to hiring. Further, there is a dedicated portal for connecting the students with companies and giving them a detailed list view of all the openings.
Q6. How much is the yearly expenditure in Singapore?
Singapore is definitely an expensive country but comes with various ways to live in a cost-effective manner as well, unlike other international destinations. The lifestyle of the student will determine the amount he or she will spend over the span of one year. On average a day's expense can be managed with 12 to 18 Singaporean dollars with food and travel being factored in.
The transport system in Singapore is amongst the best worldwide and is very cost-effective as well with a well-established bus network and MRT system spanning the whole island. The housing is slightly on the expensive side and a student can expect to pay 1000 to 1400 SGD for a hostel room on a monthly basis and the same goes for taking up a room on a rent basis outside the campus. Based on the above-mentioned numbers and your lifestyle you can easily determine the living expenses.
I hope these questions have addressed any questions that you might have had in mind in context to Singapore and the student life in this country. If you have any further questions in mind, feel free to reach out to me on my email at aditya.ranjan8@gmail.com or adding me on LinkedIn as a connection (adityaranjan8). I hope all of you reading this article take well-informed life decisions and succeed in life! Wishing you all, best of luck in your future endeavors! See you all in the next blog!
ABOUT THE AUTHOR
Aditya Ranjan is a Master's student in NUS, School of Computing and is pursuing M.Comp for his masters degree. He has completed his bachelor's from Vellore Institute of Technology, Vellore and has done quite a few internships in diverse fields during his undergraduate studies. He has worked in NUS as a researcher for 6 months working in the field of Blockchain. Apart from Blockchain, Aditya also takes interest in IOT and Business Application of technologies. He is currently also working on a startup of his own called GlobalCert Pte. Ltd. which is based in Singapore and is currently under incubation with NUS Enterprise. Aditya is an alumnus of Corporate Gurukul. For any sort of assistance or queries he can be approached on aditya.ranjan8@gmail.com or on LinkedIn at https://www.linkedin.com/in/adityaranjan8/.
Insight Categories
Alumni Speaks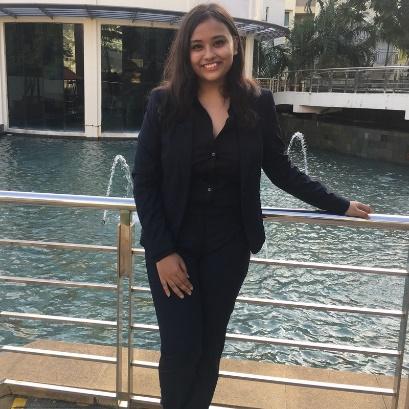 Please login to post comment, like the blog and its associated comments as well