How International Internships Prepare Students for the Workplace
The hours that ordinary people waste, extraordinary people leverage." Robin Sharma
Remember, when you have free time as a student, the wisest thing to do is use it smartly and strategically to work towards your goals. Aninternational internshipabroad for Indian studentsis a dream come true, and for good reason! Internships, especially international ones, are often just as fun as they are challenging, encompassing a lot ofproject based learning. And they also offer exposure to professional and cultural opportunities that would not be available in your own country. Let us walk you through the top ways in which your international internship can train you for the workplace.
Earn extra academic credit
For anyone who thinks that an internship can take away from your valuable study time, especially when you are pursuing an international degree and need all the time you have to keep your grades up, we have a counterpoint. Many international universities will actually count theexperiential learningof internship hours and award students extra credit for getting real world experience. This will add that extra shine to your application for future jobs, making an internship the embodiment of stretching yourself to go that extra mile to take charge of your future.
Help your resume shine
Studies by the University of California found that a staggering 97% of students with a study abroad experience were hired within a year. Thus, for students worried about choosing the best mix of subjects to showcase on your resume, an international internship – whether it is asummer internshipor asummer program for high schoolstudents– is one of the best ways to elevate your resume. Globally, prospective employers look for motivated and driven potential employees. So, if they see that you have made the effort to upskill yourself through internships, it signals to them that you are committed to your personal and professional growth, enriching yourself through internship opportunities available to you.
Makes you a good team player
A well-chosen international internshipwill offer you the chance to fill a variety ofrolesthroughhands on learning. These can often be demanding jobs, calling on you to rise above and adapt to numerous contexts. Internships tend to force interns out of their comfort zones and this is a chance for you to stretch and grow into an adaptable team player. Often, interns have to service various different bosses, especially in acorporate internship, which means that you begin to understand the different kinds of leadership roles. Here, success in the role is often decided by how well you can play as part of a team. Thus, by the end of an international internship, you can find yourself having risen to the challenge and having served on various different teams in a number of capacities. This will shape you into trustworthy young professionals, raring to enter theworkplace.
Evaluate your career prospects
The stairway to success starts with the first step. This means evaluating your career prospects with an honest and objective eye. Often, your university, courses and career counsellors can only take you so far on that journey. Ultimately, getting into the workplace and committing to your job is what is going to be the bedrock that you build upon. However, you can only make the right career choice for yourself when you have a good grasp of what your work might look like. This is where astudentinternship programcan help, driving you to obtain insights that will help you make the best and most informed choice for your career. Once you have experienced life in a workplace and seen the various avenues that are open to you, you can step back and evaluate your career prospects with a cool head. This will empower you to act based on your lived experience, making you far more likely to choose a path that is suited to your demonstrated skills and talents.
Become a global citizen
A hidden benefit of agraduate internship programmeis that the exposure it affords to multicultural people and experiences (professional, as well as personal) will lead to you developing a sense of cultural nuance. In addition, the very nature of an international internship means that, as a student, when you taking advantage of these opportunities, you are immediately thrust into the role of a global citizen. You meet and work with a variety of people, granting you access to new perspectives that can be energizing and exciting. Such internships offer you the chance to develop a worldview beyond the one you might have grown up with. Furthermore, interacting with people from all corners of the globe would automatically lead to a widening of your perspective to include diverging ones. This can lead to a more complex understanding of the world and of the challenges faced by a variety of people. You may also start to feel like you do not belong to a single place, with a growing sense of inquisitiveness and exploration, making you a true citizen of theworld.
A chance to network with a plethora of people
By their very nature, international internships would be welcoming to people from various different countries. These people are often from different social and economic backgrounds and you have to bond together to build a collective workplaceproblem solving methodology. In this way, an international internship can become the training ground for you to harness your social skills as you try and ingratiate themselves with a whole host of people. These can turn into lifelong relationships, adding mutual value to your lives. In addition, interacting with a plethora of professionals, industry leaders and experts can lead to precious opportunities that create lasting networks. Finally, receiving a glowing referencefroman internship, gives you a head start in your job applications right out of thegate.
Sets you apart
Overall, an international internship is a mixed bag that will offer you every opportunity to advance professional and also personally. It may be aresearchinternshipor even anIOT internship; the fact remains that it is a once in a lifetime chance where you will be to work, travel and live in an environment that is probably far removed from anything you may have experienced. This can be rewarding and exacting in equal measure. In addition, there may be other opportunities to take advantage of in the new environs. You may want to learn a skill in the new country, perhaps a dance or a martial art that is native to the place, which will stay with you all your life and also buildhigher-order thinking skills. Or you may want to take up a hobby such as scuba diving or bushwalking, depending on where you are interning; this may lead you to discover the country in a whole new way. You may choose to learn the native language, as well. This is a sure fire way to open new doors, in terms of perspectives but also in terms of being able to function in a multilingual environment.
To conclude, even though an international internship might appear to be a handful and it may seem like a challenge to manage your coursework and an internship, ultimately the advantages far outweigh any disadvantages. You will emerge a more capable individual, with a strong resume that reflects your real world work experience as well as your cultural sensitivity. This can help you get your foot in the door for your first job. In addition, the travel and exposure to new cultures are all added bonuses that will leave you moved and awed. So, carpe diem and make the most of anyinternship opportunitythat might come your way. You'll emerge from the chrysalis, ready to take on the world!
Insight Categories
Alumni Speaks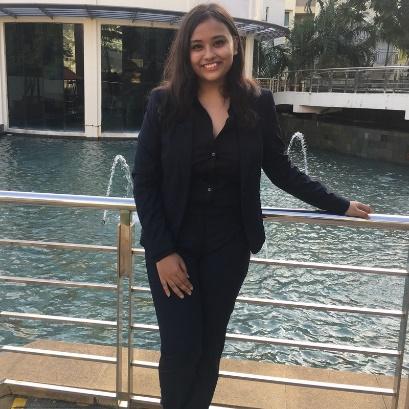 Please login to post comment, like the blog and its associated comments as well