Ultimate Guide to Land your Dream Grad School
Introduction:
Grad school applications are increasingly becoming a herd mentality of late. The reasons for people pursuing a master's/doctoral degree are however diverse. Some people choose to attend grad schools and study abroad to take a break from the lifestyle of working professionals, some people choose to do it for the experience of getting educated in a cosmopolitan set up, some people pursue it for assimilating all the knowledge in their area of interest through the academic rigor of a masters level coursework, some pursue it as a gateway to better opportunities in the industry or a doctoral program while some pursue it just because they need clarity on what they want to do next.
Irrespective of these reasons, the challenges an individual faces with grad school applications is the process in itself. There are plenty of questions on an individual's mind before they decide on whether or not they want to pursue a master's/doctoral degree from a university of their choice. A few of the questions are listed out below :
Is it a master's/doctoral degree program for me?
When is the right time to start preparing for grad school applications?
What is the chronology of actions to be completed for the application process and when is the right time to start applying?
Which university is a dream university for my area of interest?
How can I get admits from the Ivy Leagues?
Should I opt for the United States/ Canada/ Singapore/other countries for pursuing my masters/Ph.D.?
What are the academic requirements needed to secure admits to the top universities?
How are the opportunities in the industry after completion of a master's program?
How rigorous is a master's/Ph.D. program academically?
How will covid-19 impact the future of grad studies in different countries?
How can I prepare for my GRE/TOEFL exam and score well?
How can I clear my F-1 Visa interview smoothly? 
How will I be able to fund my education/ living expenses optimally while pursuing my degree? 
If any of these questions have ever bothered you, then you are looking at the right blog series to be thoroughly guided and mentored regarding the same. This blog and the upcoming blogs will exhaustively cover everything that a beginner will need to know right from the step of desiring to pursue their Masters/Ph.D. to the step of flying abroad to actually pursue one. 
Background:
To give some background about me and my credibility to write about these articles; I am Vignesh Prabhakar and I am currently a student pursuing a Masters in Data Science from the University of Southern California and I currently work on Artificial Intelligence and Natural Language Processing for a leading Biotech firm in their R&D division based out of Silicon Valley.
Being in the shoes of an aspirant over a year ago, I realize that the challenges one faces during their grad school applications are the process in itself. I did not take any formal counseling or coaching sessions but I do realize the importance of being well informed about the right set of things to do at the right time to get admits from dream universities.
So, I can make the process much smoother and easier for all aspirants who will be reading this blog series. I applied to a total of 9 universities and received admits from all 9 universities. The entire list of universities and their locations as well as the programs for which I received admits have been listed out below for your reference:
The University of Southern California - MS in Data Science  (Los Angeles, CA, USA)
Cornell University - M.Eng in CS  ( Ithaca, New York, USA)
The National University of Singapore - MS in Business Analytics  (Singapore)
Queen's University - MS in CS   (Ontario, Canada)
Simon Fraser University - MS in Big Data Analytics (British Columbia, Canada)
Northeastern University - MS in Data Science (Boston, MA, USA)
University of Texas, Dallas - MS in CS ( Dallas, Texas, USA)
Arizona state university - MS in CS (Tempe, Arizona, USA)
State University of New York at Buffalo - MS in CS (Buffalo, New York, USA)
Being well experienced with the process, I have decided to guide and mentor the aspirants who wish to pursue their graduate program/studies in their respective dream universities as well. 
Content covered in this blog:
The content that has been covered in this blog is relevant to the process to be followed before grad school applications.
The Roadmap :
1. Research internships
Research internships are academic internships pursued under the guidance of a professor on a topic of research that happens to interest the applicant. An applicant needs to plan ahead of time and start early to get accepted for a research internship and to ensure completion of the same promptly.
The applicants should have a topic of interest and ought to mail Professors not only from the same undergraduate university that they belong to but potentially to other universities in and outside their country of residence as well. The first step in getting a research internship is to visit websites of the various research groups in different universities and understand the specific areas of research that a research group works on to gauge the prerequisite readiness needed to be accepted for the research internship.
Thereafter the applicant needs to plan on a specific topic in an area of research that has synergy in terms of the applicant's interest as well as the interest of the research group / Professor willing to accept students for research. Finally, the applicant needs to approach the research group / Professor with a clear proposal and other background necessities such as prerequisite readiness and understanding of the current work being pursued.
This sort of cold mail sent to the Professors who head research labs or groups in various universities must contain the applicant's resume, prior experiences and specifically mention the research topic that one wishes to pursue under a  research group / Professor.
This process is definitely hard but not impossible at all. Another way to catalyze this process is by approaching the Office of International relations of an applicant's undergraduate university and explore options to pursue academic internships with research groups / Professors in the universities with whom the applicant's undergraduate university has a Memorandum of Understanding ( MoU ).  
2. Projects
Projects that are relevant to the graduate program that an applicant wishes to pursue is very crucial to not only demonstrate experience and enthusiasm for what they wish to pursue but also for an applicant's own education and learning. Pursuing projects in a particular domain makes an applicant proficient in that domain and the various challenges encountered at every step needed to complete a project in itself will render several avenues for further study.
Pursuing those various avenues of study will make an applicant skilled, eligible, and versatile to pursue further opportunities such as internships or research which are also crucial to an applicant's application to grad schools. So projects are used to positively impact the learning outcome of an applicant apart from validating the enthusiasm and prerequisite experience of an applicant to the university. 
3. Publications
This is the most neglected yet most important part of a grad school application. Research at the undergraduate level is not seriously pursued by many applicants especially due to the inherent complexity, patience needed to achieve anything significant out of research, and the lack of prerequisite readiness. This is one of those factors that differentiate outstanding applicants from several good ones.
Publications not only indicate proficiency and expertise in a specific field of interest but also demonstrate sound academic writing abilities, critical thinking, and the ability to come up with innovative solutions to several pertinent problems in a specific field of interest that a candidate wishes to pursue in the graduate program. Demonstrated proficiency in research makes an applicant a valuable asset to the university admitting him/her. Therefore it is very important to have good publications incredible and reputed journals or conferences to be considered very seriously by a university.  
4. Fellowships/ Assistantships
Fellowships and Assistantships are mainly centric to Ph.D. applicants than Masters applicants. Prior teaching assistantship ( TAship ) or research assistantship ( RAship ) in undergrad can help in easily securing a TAship or RAship during graduate studies. This will not only help in finding one's own education but also help in unlocking new opportunities that can be pursued in grad school after getting admission.
The procedure to get a TAship or RAship is pretty much dependent on academic performance and familiarity of an applicant with the Professor or P.I. under whom the applicant wishes to pursue an assistantship. Fellowships on the other hand are useful for Ph.D. applicants to get sponsorship for completing their doctoral degree. Since doctoral programs can typically take anywhere between 4 to 6 years to complete, fellowships would be very helpful for a Ph.D. aspirant to sponsor their education during this period of time.    
5. Letters of Recommendation
The letters of recommendation are a set of two or three references ( depending on the university ) submitted by Professors or Supervisors who have directly managed the applicant in an academic or professional capacity on behalf of the applicant to the university. It is highly recommended to receive letters of recommendation from Professors or Supervisors who have mentored and guided the applicant personally over a period of time and can vouch for the skills and accomplishments of an applicant.
It would be advisable to contact Professors who might have guided the applicant with a research internship or who might be co-authors on a published research paper or who might have supervised the applicant as a part of the undergraduate major project. Letters of recommendation can also be given by industrial professionals who happen to be the supervisor or manager of the applicant in the company for which the applicant works.  
The best letters of recommendation that can make a significant difference in the application are generally given by Professors who have guided the applicant with a research internship and have most likely co-authored a research paper with the applicant. Speaking from my personal experience, the letter of recommendation that I received from Prof. Lek Hsiang Hui at the National University of Singapore ( NUS ) after the completion of my research internship was the main aspect of my application that got me an admit to the MSBA program at NUS. 
6. Statement of Purpose
The statement of purpose is a document that talks about the reasons for an applicant to choose a particular graduate program in a particular university out of the several other options available during the admission process. A good statement of purpose should be concise, grammatically correct, and should effectively convey the background, expectations, and aspirations of an applicant from a particular graduate program being offered by a particular university. The statement of purpose helps the university to assess a candidate's desire to pursue a specific program.
7. CGPA
Contrary to what many people say, academic performance in the undergraduate program is immensely crucial to secure admission to your dream graduate program. Several universities offer significantly greater weightage to an applicant's undergraduate CGPA over any other aspect of the application.
So, it is very important to maintain a good CGPA. This may sound one dimensional to many but it is sadly one of the easiest ways for the universities to assess an applicant's prerequisite readiness to pursue rigorous academic coursework at the grad level.
8. GRE Score
Depending on the country where one wishes to pursue their graduate program; taking up the GRE may or may not be optional. Most of the good universities in the United States expect the grad school applicants to have taken up the GRE whereas many universities in Canada and Singapore consider the GRE scores to be optional yet highly recommend the students to submit the GRE scores in the application to give universities more bandwidth to assess an applicant.
GRE Scores are important as screening criteria for universities. Since the top universities also attract a lot of eligible applicants, it becomes a challenging task to go through each one of those applications. The universities in that scenario utilize either the GRE scores or the CGPA of an applicant as screening criteria to filter out several applications that do not meet set criteria before they further critically review the applications that have met the screening criteria. 
It is important to score really well on the quantitative section of the GRE for students wishing to pursue any science/ technology/ engineering program in grad school. Scores north of the 90 percentile mark ( 165 and above out of 170 ) in the quantitative section are generally considered safe to secure admission in any of the academically acclaimed programs in the top universities.
Similarly, students wishing to pursue graduate programs that require a good command of English need to perform well on the verbal section of the GRE, and scores of 155 and above out of 170 are generally considered good enough to secure admits in most of the programs in good grad schools.
The AWA section of the GRE is used to assess a candidate's academic writing abilities as there will be a lot of academic writing ( such as research papers ) involved in a grad school program. Scores of 4.0 and above on a scale of 6.0 are generally considered indicative of a candidate with strong academic writing skills. Overall, GRE scores of 320 and above out of 340 are usually considered good enough to meet the screening criteria of most of the programs in top grad schools.
9. TOEFL / IELTS score
The TOEFL / IELTS are standardized exams used to measure the English language ability of students who are non-native speakers wishing to enroll in universities where the medium of instruction is English. This is mainly done so that a university is sure that an applicant who wishes to offer admission can manage academic course load in a language that is not necessarily the native language for him/her.
The TOEFL exam is scored out of 120 points with a total of four sections contributing to 30 points each. IELTS on the other hand is scored on a band ranging from 1 to 9.
Generally, a TOEFL score over 100 out of 120 with a minimum of 25+ on each section is good enough to get accepted by most of the programs in all the top universities and an IELTS score of 6 or above is good enough to get accepted by most of the programs in all the top universities.
These standardized exam scores may seem trivial but can actually help a candidate in getting TAship opportunities after getting the admit although the primary factor in getting a TAship / RAship opportunity is solely based on academic merit.     
10. Experience working in the industry
Industrial experience isn't mandatory but highly recommended before pursuing a graduate degree. This is mainly because few technologies that we acquire experience with by working in the industry are not necessarily taught in academia. Academia teaches students to solve problems on paper and in theory. Industrial experience is the practical application of delivering these solutions from theory to scalable implementations which can only be acquired with time.
For example; if one is a Computer science engineer then DevOps is not a concept necessarily taught in universities but is a very crucial position at an industrial level. Such intricacies sometimes help candidates with prior industry experience to get internships or full-time opportunities fairly easily after completion of the graduate program. One way this can be circumvented is by doing online certifications on such specific industrial tools and technologies that will validate an applicant's readiness in terms of the industrial training as well.
11. Experience with volunteering:
Before I explain this any further; volunteering is something one needs to pursue out of self-interest and benevolence and not as a means to make the ends meet i.e. the graduate program admits. Volunteer experience although not academically relevant, pitches about an applicant's desire to take responsibility and drive initiatives that are needed not only in grad school but everywhere else in life. So the applications are not only scrutinized as a portfolio of academic accomplishments but also seeks to look at an applicant beyond the usual. 
What is special about the profiles of candidates who make it to the top universities :
The ideal profile of a person who conveniently receives admits from most of the top universities has a holistic balance in all of the above points listed out in the roadmap above. It is not only important to have good academic credentials but also to have strong experience with research, working in the industry, and volunteering.
The key takeaway from the roadmap mentioned above is to start early. An applicant needs to be clear and coherent about what he/she wishes to pursue after their undergraduate degree right from the freshman year.
The points listed out above may seem overwhelming but can be comfortably achieved over a period of four years with the right planning and implementation. So the answer to the question about the specialty of the profiles of candidates who make it to the top universities is simply careful planning, timely implementation, clarity of aspirations, and maintenance of a holistic balance of their overall profile.
At the core of the seemingly convoluted process listed above is the simple adherence to certain soft skills that assure success to pretty much anyone willing to follow it.
Topics that will be covered in the upcoming blogs :
Few of the topics that my upcoming blogs would cover and that is extremely crucial to be successful with the grad school applications and beyond have been briefly listed out below and further articles other than these would be made available upon request.
Is pursuing MS / Ph.D. for me?
A detailed timeline of activities to complete right from the first year of bachelor's degree 
Undergraduate research and profile building for MS/PhD 
Is it necessary to have work experience/industrial exposure before pursuing MS/Ph.D?
GRE / TOEFL / IELTS preparation subseries
Statement of Purpose and Letter of Recommendations
Strategies for your application process
Job scenarios for immigrants in the countries that you are applying to
Busting some myths related to MS/PhD 
Opportunities to pursue a Ph.D. after Masters
Ways to fund your MS/Ph.D. education and strategies to repay your student loans even before graduating.
Guidance to clear the student visa interview
The academic rigor of an MS/Ph.D. program
Strategies to secure RAship/TAship in your grad school 
Impact of Covid-19 on the future of grad studies and will it affect you 
Legitimate sources of information to refer to in case of any doubts
An Endnote:
I have decided to make this blog series to share my personal experience with anyone and everyone wishing to pursue a graduate degree. A tedious process can definitely be simplified with the right guidance given at the right time to an individual.
Depth and detail and authenticity would be the focus of my articles on the aforementioned set of topics that I'll be covering in my upcoming blogs. Looking forward to seeing you all with my next blog post and a huge shoutout to Corporate Gurukul for presenting me with this opportunity. 
About the author :
Vignesh Prabhakar is currently a student pursuing Masters in Applied Data Science at University of Southern California ( USC ) and is also an AI Engineer Intern at Genentech's Research & Early Development who primarily works on Natural language processing, Computer Vision and Big Data Analytics.
Social Media Handles
Linkedin :  https://www.linkedin.com/in/vignesh-prabhakar/
Twitter :    https://twitter.com/vigneshprabhak9?lang=en
Instagram : vgnshprabhakar
Insight Categories
Alumni Speaks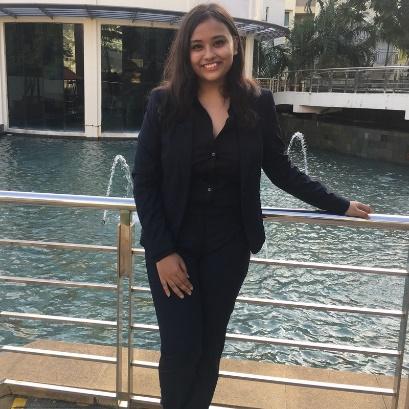 Please login to post comment, like the blog and its associated comments as well